Luthier
Sam has been playing Mandolin for over 15 years but in an effort to find the perfect instrument he decided take his engineering skills to instrument repair and manufacture. Here you will find information about repair services, current projects, restorations and instruments for sale new and antique. 
Head to the contact section if you need any repair work done or are looking for a new instrument.

Stridente Restored
New rosewood fretboard with mother of pearl spots, bone saddle and rosewood bridge. Splits closed in the back, top cleaned and oiled, decorative Mother of Pearl and tortoiseshell replaced neck angle restored, tuners cleaned and oiled, splits in head sealed, action set to 2.5mm at 12th fret and a new set of flat wound strings.
It has a brilliant ringing tone and very solid, an absolute delight to play. I was reluctant to send it home! One very satisfied customer :o)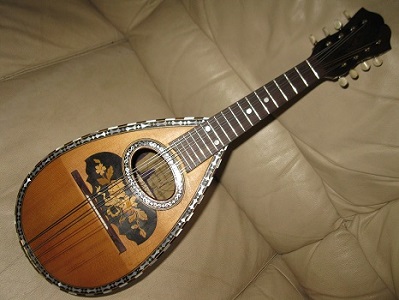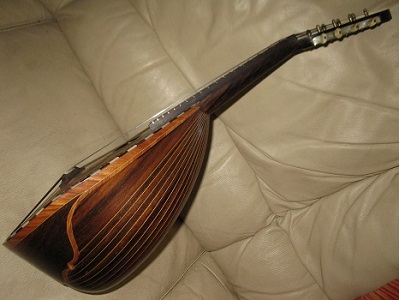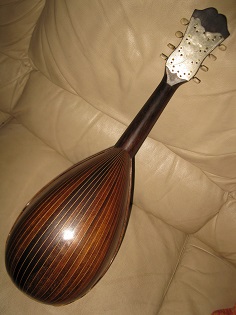 Suzuki M80 Restored
New rosewood fretboard with mother of pearl spots, bone nut and saddle and rosewood bridge.
Sounds fantastic! Such a bright and resonant tone from the exceptionally deep body. This is another instrument from around the 1970's much more modern that what I'm used too but I'm very impressed with this. I think the bowl made of maple.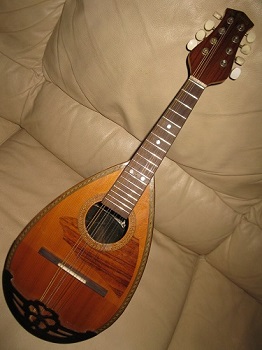 Aquila Nylgut String Comparison
Aquila Nylgut strings tested.
They're appear to be just classical guitar strings really. Thick, smooth and soft with a warm, slightly bendy, tone. Very light on the fingers, I can't see them ever being used for performance but excellent for long practice sessions.
They are NOTHING like gut at all, if you want a true renaissance sound look elsewhere.
See video of test 
Musikalia Rosewood Restored
Musikalia finished. New rosewood fretboard, with mother of pearl dots, and re-glued neck joint which had begun collapsing. Other than that it's in good condition as you can see. Good tone, balance between strings and reasonably loud, which will probably improve with playing. It's quite a bit older than one which I tuned the sound hole on (~1970's) and has extra decoration, it also has a rosewood bowl instead of walnut.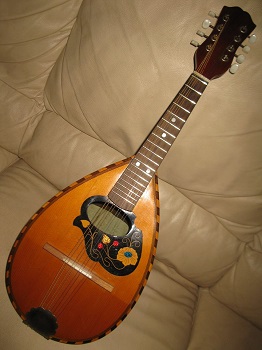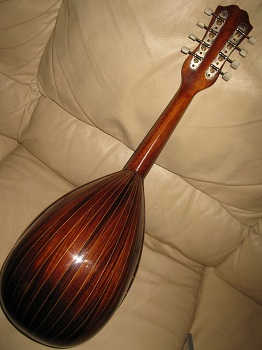 Musikalia Walnut Soundhole
Sound hole modification tunes the body to F (175Hz) giving a more even tone across the strings by moving resonance away from open string frequencies. Previously is was G (196Hz) making the it very bottom heavy!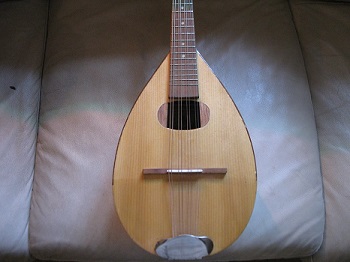 American WT&B Rosita Restored
American W.T. & B. Rosita mandolin restored with new cherry fingerboard and rosewood inlay. In bid to reduce use of tropical hardwoods I am tried an experimental fret board using a very dense piece of cherry (700kg/m3). It's turned out really nice with a smooth even tone, however, I think it might be tricky to keep clean! Also, new bridge with bone saddle and bone nut.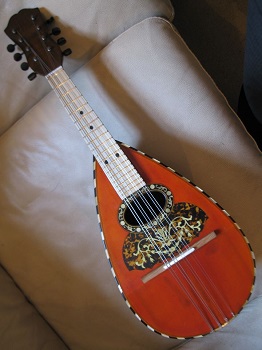 Lazzaro Gennaro Restored
Restored Lazzaro, Gennaro mandolin.
This mandolin repair has been extensive. I stripped the veneer on the neck and head, repaired a split in the neck, re-veneered the whole neck and head in rosewood, made a rosewood fretboard with mother of pearl spots, new bridge with bone saddle, bone nut and a new tailpiece. Finally finished off with a set of flat wound strings.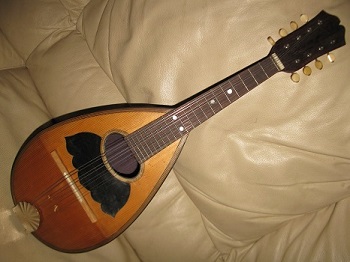 Francesco Perretta Restored
Restored; Francesco Perretta mandolin from Naples. It needed a new fretboard (rosewood) fitted at a new angle to recover the action due to neck joint warp, a crack in the back closed, the top cleaned and oiled and a new bridge. I have used an experimental beech wood bridge here, without a bone insert but with the usual bone nut. 
The bowl of this mandolin has an unusually wide shoulder giving the body quite a bit of volume.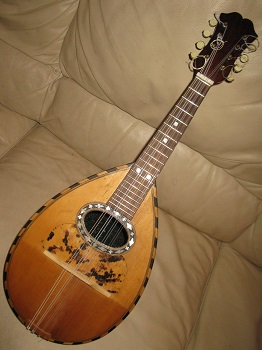 Photographed here with Aquilla Nylgut strings fitted.
200 Year Old Violin Restored
Just finished restoring this old German violin that apparently dates from 18th centaury. The back was coming off, fingerboard worn, bridge warped, top damaged and chin rest needed cork. The back coming off meant the sound post needed removing and then resetting after gluing the back on with hide glue. Beautiful now, a very happy customer.